Useful Click on Links
Print our pdf
Join Us Brochure

"Like Us" On Facebook
United States Jaycees
Virginia State Jaycees
Farmville Jaycees
Town of Farmville VA
Chamber of Commerce
Past Events - 2013 What Have We Done . . .
Farmville Jaycees hosted the Virginia State Convention
July 26-28 2013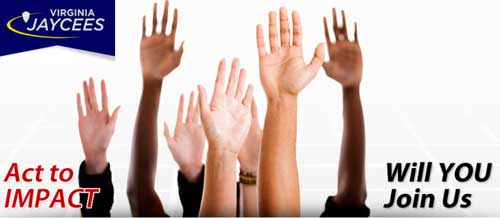 The Farmville Jaycees are proud to have hosted the 2nd Quarter VA State Convention in town! Jaycees from around the state joined us in Farmville for a weekend of professional development, fellowship and fun.
Jaycees sponsor a PEFYA team for 2013
The Farmville Jaycees sponsored a PEFYA Buddy Ball team for 2013, which includes 17 young players and 3 coaches. The Jaycees are proud to sponsor a youth team who enjoyed their season!
2013 First Friday's
The annual Farmville summer concert series -
2013 First Fridays dates
May 10 – Foggy Moonlight
(Classic rock covers)
June 7 – Los Carleenos
(Farmville blues & rock band)
July 12 – Improbable Cause
(Classic rock covers out of Southside)
Los Carleenos August 2
(Farmville blues & rock band)
September 6 – No BS! Brass Band
(New Orleans style 9-piece brass band from Richmond, VA)
October 4 - Improbable Cause
(Classic rock covers out of Southside)
2013 Seersucker and Sundress Party June 21
On June 21 we invited you and your friends to join us at Farmers Market, Farmville, VA to kick-off the summer with our first Seersucker and Sundress Party! . . . Click HERE to view our photo album
2013 May First Friday
May ushered in a beautiful day for our kick-off First Fridays! Foggy Moonlight, local Farmville band, performed classic rock hits, while everyone enjoyed beer on tap. Mark your calendars for June 7th and Los Carleenos!
Adopt-A-Street Project April 2013
Jessi McCormick, Becca Snyder, and Jeff Gore (not pictured) picked up trash at three Farmville locations in support of the Jaycees Adopt-A-Street program. They visited Wilck's Lake, the Farmville Train Station, and Grove Street Park.
VA Jaycee President Lillian Cheng visits March meeting
VA Jaycee President, Lillian Cheng, visited the Farmville Jaycees March 2013 meeting to offer her support and encouragement as we kick off our year. Pictured (left to right): Member: Sierra Smith, Member: Sarah Miller, resident: Lisa Seamster, VA President: Lillian Cheng, VP: John Miller, Member: Megan Miller, Member: Mark Farley. Link to Va Jaycee website
2013 Leadership Farmville Class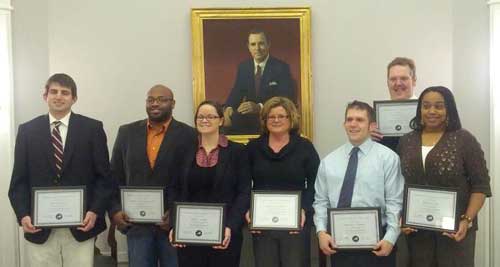 In March 2013, 7 Jaycees members graduated from the Leadership Farmville class. For seven months, students explored governmental, civic, cultural, and other aspects of the town. In February, students took a trip to the General Assembly in Richmond, and spoke with representatives, all while learning about their own personal leadership style.